A scan from next week's issue of Jump has confirmed the rumours that Final Fantasy III is (finally) seeing a PSP release.
Final Fantasy III was originally released on the Famicom in 1990, and saw its first release outside of Japan in the form of a 2006 Nintendo DS remake which also made it's way onto iOS and Android devices many years later.
Unlike the Final Fantasy and Final Fantasy II remakes which graced the PSP, the Final Fantasy III DS remake wasn't a mere graphical update but a complete visual overhaul featuring redesigned 3D character models. The scans (provided below) indicate that Final Fantasy III for PSP is a port of this Nintendo DS remake, and will include content from the iOS version and the option of playing with the original Famicom soundtrack.
Final Fantasy III for PSP is set for release on September 20 in Japan, and will be available in both digital and physical forms.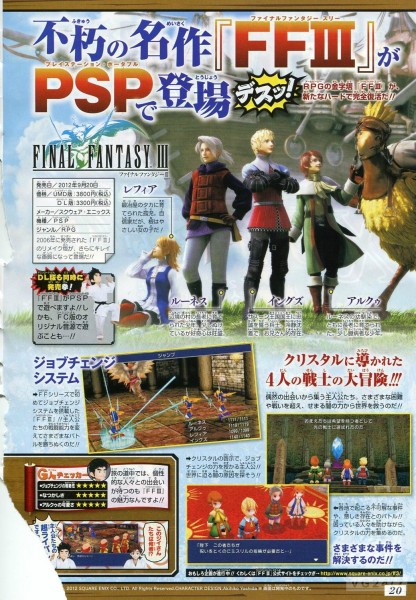 Source: VG24/7